Introducing the Sputnik Soapbox, where your Raconteurs Recount Realistic and Ridiculous Rally Racing Remembrances Really Remarkably.
cough
(What, are we the only ones who read Marvel comics?)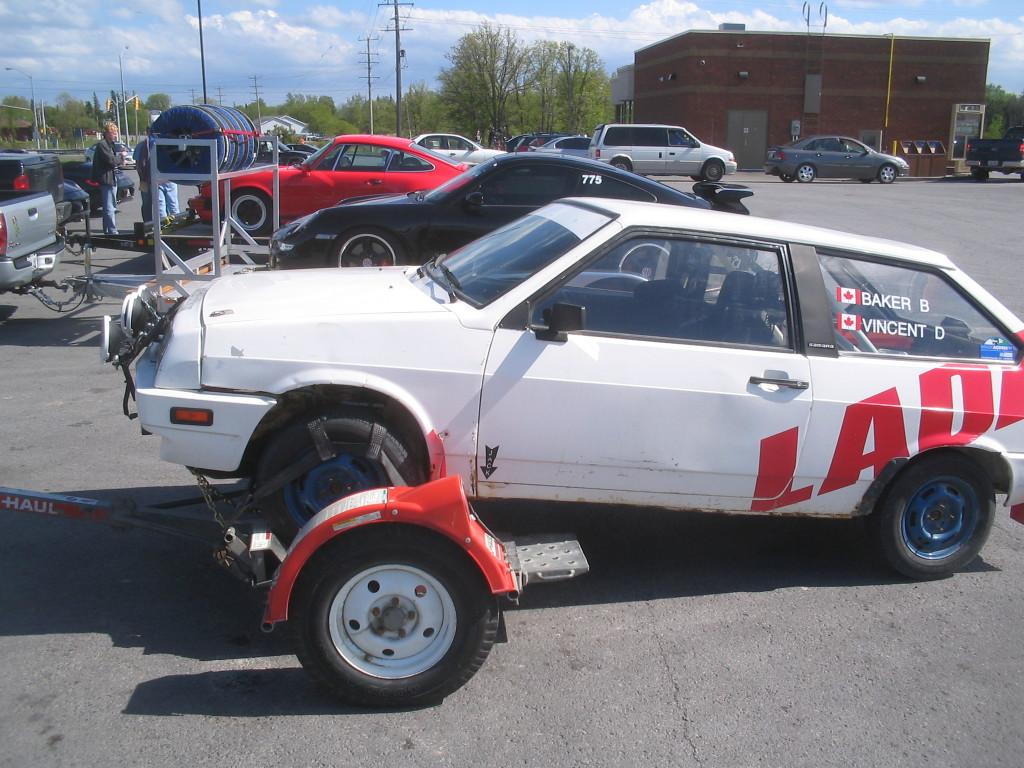 Follow along, friends, as two amateurs with only the most basic of skills build a rally car from scratch and then trust it with their very lives! What horrible mutation could lead to such a decision? Exposure to Gamma rays? Cosmic rays? Vita-Rays? Surely there must have been SOME kind of rays involved… After all, there usually are.
Follow along as we unravel the story, from their humble origins in poverty and TSD rallies, through the early years of training and non-stop bombardment with the glories of Communism (and presumably rays of some sort, true believers!) to the eventual nuclear resurrection of an all-wheel drive turbo monster from the past!
Rally Sputnik Pt 1 – The Legend of Rally Sputnik
AKA Origin Story
Our story begins in the 1990s with two young men who are busy not living up to their potential. They meet in downtown Terminal City and become friends over aggressive music and beer. Lots. Of. Beer. As time passes our heroes (Ed – really?) apply at least half their asses to learning something, and as the computer fad replaces Pogs at the turn of the century it is possible for even these two to get reasonable daytime jobs by convincing people that they know something about the fancy adding machines.
Fast forward to the thriving metropolis of Schomberg, Ontario in 2005. Thanks to the Intertubes they are exposed to Time Speed Distance (TSD) mini-rallies (Ed – and gamma rays, surely?!) which are being put on by the Maple Leaf Rally Club out of a nearby truck stop. Like fools, they enter one (the Greenspond Go-round), they come in 14th (out of 15) and are hooked immediately. And thus their fate is sealed.
Thanks to some poor life choices they have only one vehicle between them that is likely to survive even these mild dirt roads; a Jeep TJ. This is far from an ideal rally vehicle for a variety of reasons – live axles, stiff suspension, low power, real four wheel drive which shouldn't exceed 80 kph, poor brakes, useless headlights – but is worlds better than the other options: a 1990 Acura Integra or 2002 Honda CBR 954. They decide to press on with their sturdy but less than ideal steed and even enter several overnight winter rallies, which are a kidney-jarring, Cosmic ray-exposing, guaranteed good time.
The seed thus planted (Ed – by Department K, surely), our protagonists begin to volunteer at performance rallies. This activity consists mostly of being terrified of getting something wrong while dealing with bugs (some of which have a size that can only be explained by radioactive testing), uncomfortable temperatures, and handling equipment issues on the fly. This last one will come in handy later. They are also exposed to really cool cars up close, great people, and the mysterious inner working and secret circles of performance rallies. And the ways of the ancient gods. It's straight out of Lovecraft, really.
By 2008 they are clearly down with the sickness, as demonstrated when the replacement for the 1990 Integra – after 495,000 kms, go Honda – is the most rally fan boy car possible: a 2004 WRX. In World Rally blue, of course.
Nerd!!
Am-hem. After entering a rallycross and volunteering at more performance rallies and not spending any time to really think things through at all they have a few drinks at Tall Pines 2009 (Ed – like every other day?) and decide to purchase a used Lada. This is either the best idea or the worst idea they ever had. Or it may be both things.
With no way to move the Lada between races a Chevy Astro van with a tow hitch is intercepted on its way to the intergalactic scrap yard and for $500 the Rally Van enters their lives. This decision makes getting to the rally as exciting and unpredictable as actually finishing the rally, but does give them a lot of experience in roadside creativity. Plus having a spare car on the trailer that could, when required, be unloaded to go for help, turns out to be useful. More than once, sadly. In fact, there could probably be a separate chapter just on towing with the Bush Pig, but if you wanted to read about going slowly and breaking down you'd be…oh, right. Well, maybe we will then. But for now you can start with these:
More on the joys of tow vehicles
Watch this space for Part 2!