You heard it here first, kids – we actually got off our lazy, turkey ham and stuffing-filled holiday butts and did some work on The Manchurian.
Well, first we took the Lada to the train station where we recieved some abuse ("It's Christmas Eve and you show up with a LADA?" Us: Yes. "Are there any parts WITHOUT damage?" Us: Yes. "What condition would YOU say it's in?" Us: For a 22 year old rally car it's in awesome shape!). We were sad see it go, but really glad that it's still racing. Chuck, bring it back to Ontario for Pines! The fans demand it.
As you can (hopefully) see from the picture below, though, we got the Talon interior stripped plus changed the oil and filter (just seemed like the right thing to do), looked at the brakes (needs new pads and rotors, no surprise there), tried to take the front sway bar off (impact sockets don't fit well so put that on the list for when we're replacing the suspension), and changed a burned out brake light. Whoo-hoo!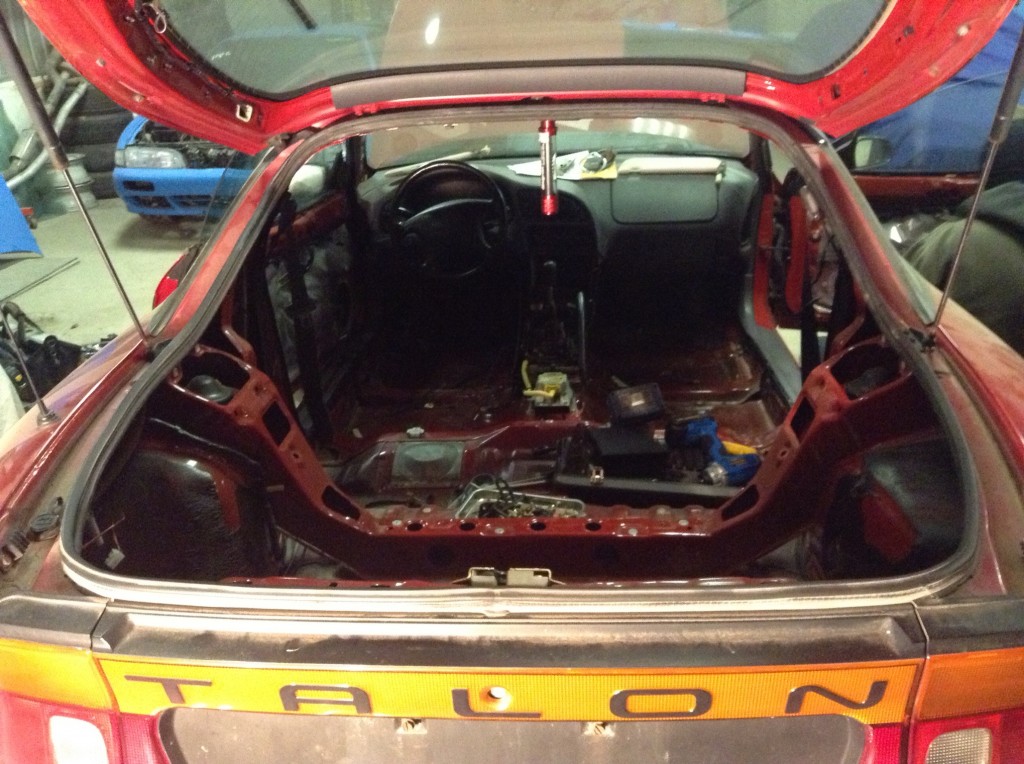 Most importantly, though, we put new door handles on. They're a stupid design and the actual handle had broken off on both sides so one stuck a finger through a hole buddy smashed in the drivers side, hooked the metal articulator inside the door with your finger, and that was how you opened the door. Not any more, though! Now they're black so they match the roof and echo the 84 IROC Camaro that is also in the shop, and most importantly they work. It's a visible improvement!
Ok, our standards are pretty low at this point.
Next steps are to pull more electrics out – buddy had a turbo timer and an aftermarket alarm that both need to go, and other non-racing stuff – cruise, AC, airbags, dash cover – that are easy-ish are up next. We're anticipating pulling the motor and cleaning / replacing in a proper fashion, but for now we're going to focus on the interior/electrics. Partly because one of us is going away for two weeks and the one who knows how to do electrical stuff is not.
Oh, and we need our new down pipe to have the high-flow cat cut into it and then we can finish installing that and get a clean air, but the rush to get that done before 2013 is now over because that ain't going to happen. Instead, we will experience whatever weirdness the Ontario government brings us for a clean air test in 2013. One wrinkle is that this car is a 97, which is the year after which OBD2 readings are required. Will that mean we have to do an OBD2? Who knows! (This is why we wanted to get it done in 2012, but…well, you know).
More news soon but the plan starting mid-Jan is to do weekly work so that might even mean regular updates! Imagine that.