If you're like most of the people we get email from, you're wondering when we are finally going to stop ranting about the government and get down to some car building. (That or you're offering us a degree, or a date with a hot Russian woman, or some discount Calais to help with that date, now that you have a degree). So to make at least some of you happy, here we go. 
We've spent a few hours going through the box of rusty parts to find something useful; not so much, sadly. These pistons and oil filter/cooler are really not going to cut it, for example.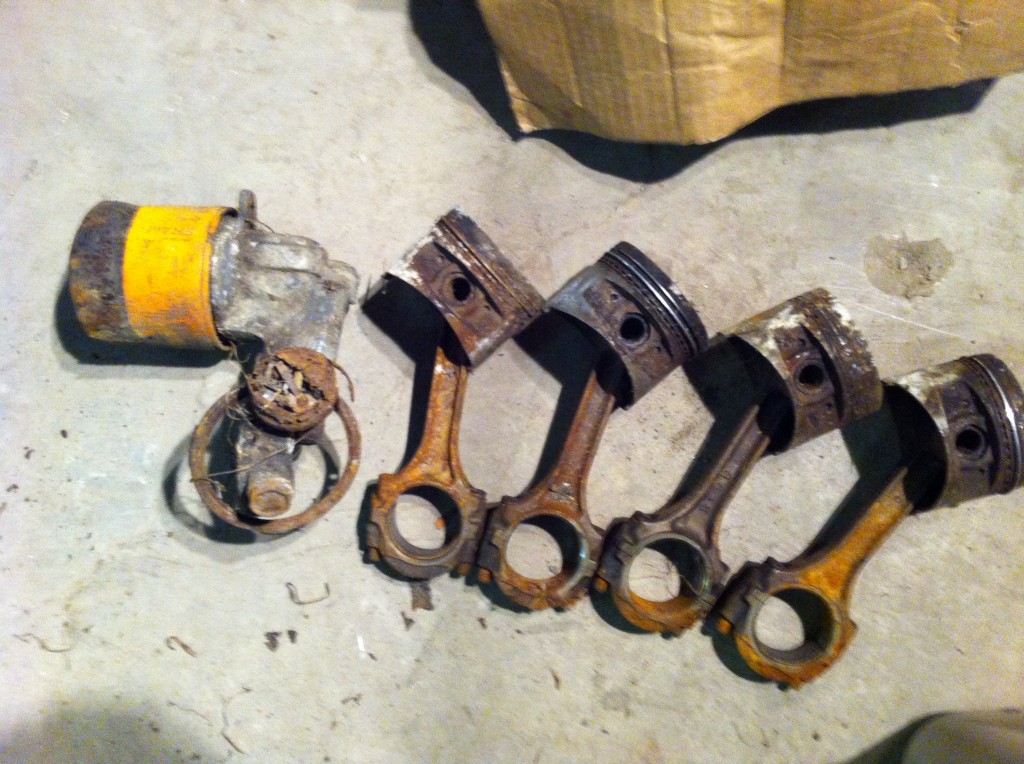 Then we moved on to stripping the interior out of the car, which was troublesome as they went crazy with the sound deadening crud. (We're thinking it was 1991 Japanese build quality instead of 1997 American build quality, but who knows). On the plus side we found it has a proper boost controller, so that's cool, and we've got to have a dollar in change from under the carpets. We actually removed most of the carpet, seats, and plastic last time – see previous post about how good we are at that – and we enlisted Brian the firefighter's help on Monday and got all of the sound deadening stuff chipped away plus started on the front clip. Eight bolts per pop up headlight. Eight! It takes effort to look pop up headlight cool, dude.
To balance out the rusty pistons and other rusty parts – which we wasted gas hauling home – we do already have some 1G parts, thanks to Don. (Note: henceforth the 91 will be called the 1G while the 97, which is still for sale, is the 2G). Plus we're starting to accumulate more. Derek is a fiend for the DSM forums, which is a pretty handy place to lurk and less likely to get him a virus than those 'other' sites. And we have still have some of Don's diminishing but useful parts to raid! So we're accumulating good stuff at about the same rate we're stripping away crud.
Progress is pictured below and we're going back up next weekend to remove more of the front clip and the dash so we can – hopefully – haul it down to Rally/Race Developments on the weekend of the 20th. Guess we'd better text the guy who owns the trailer to get the brush off it so we don't have to unload/reload it again. That would suck.
Things to note:
Beer
Claw hammer and putty knife
Fiberglass Pink insulation in body
That crazy exhaust manifold (it's a PaceSetter!)
Next update will include the always popular 'list of stuff we bought so we feel better about spending the money'. With pictures!