If you've been following the Rally Sputnik saga closely you'll realize that there are three ways of doing things. The easy way, the hard way, and the Rally Sputnik way.
True to form, then, we have decided to switch things up on you.
After spending a fair bit of time and effort trying to figure out how to turn the fiendishly un-rally-friendly Double Wishbone suspension on the otherwise perfectly running, quick and inexpensive 1997 AWD Eagle Talon TSI  into something that wouldn't blow up on the first stage road, the solutions were getting weird. So, like the saying goes, when the going gets weird the weird turn pro.
Enter Plan M: sell the newer and running 1997 Talon and buy a non-running 1991 Talon, which has one major advantage: it has a suspension that our limited, 4-dimensional minds understand. Struts and springs FTW!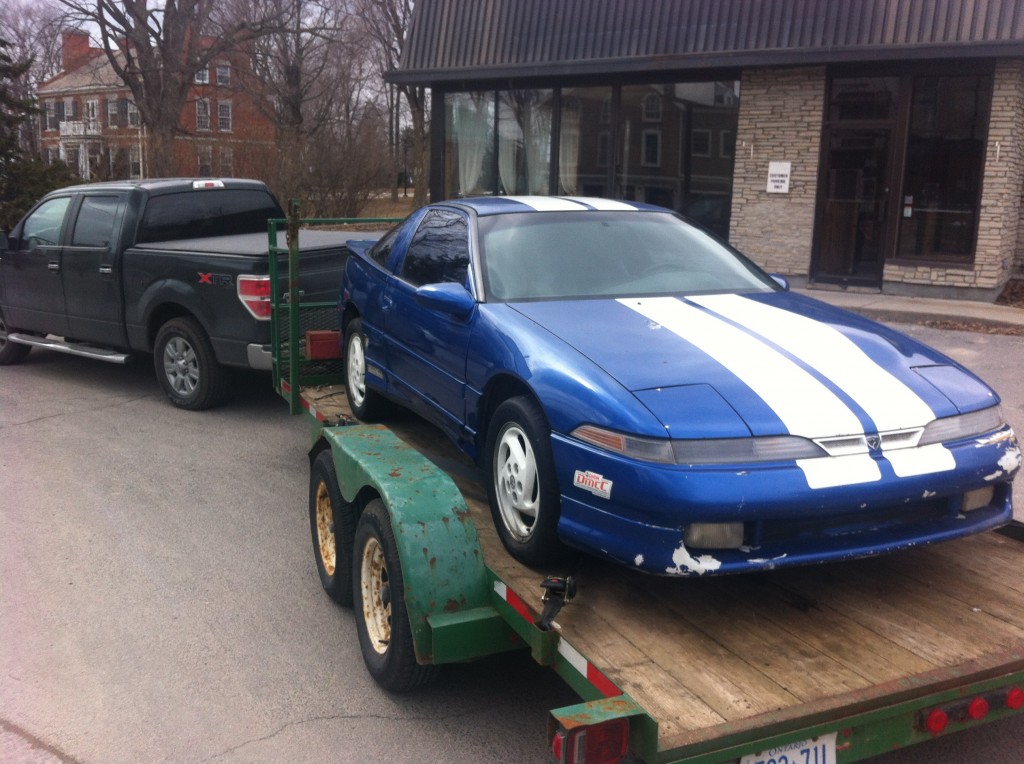 Yes, it's another Kijiji special and yes, it came with a box of highly dubious spares. We trekked up to Smiths Falls Ontario (about a 4 hour drive), loaded it up, and hauled it back to the shop in Alliston on Good Friday. Of course, being Rally Sputnik this meant we had some challenges. Specifically, we had to turn this: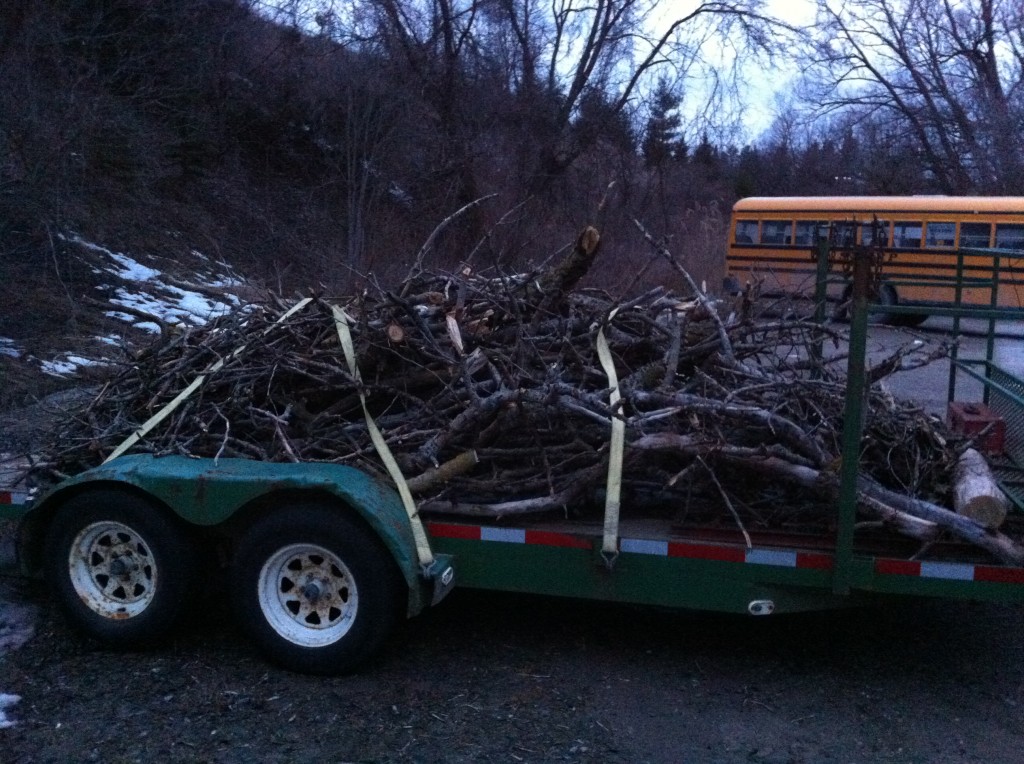 Into this.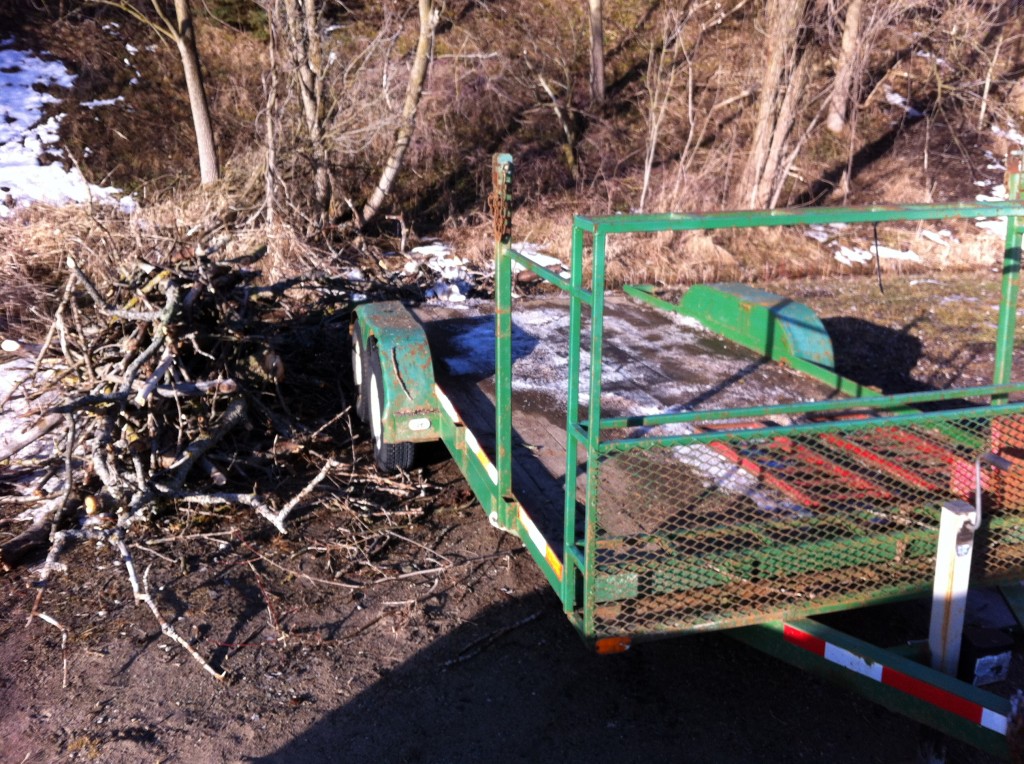 Which we did, with beer and without the use of any flames. Possibly a first for us – there usually seem to be flames involved. And that was just so we could actually pick up the car.
Then, when we got back with the car, the next day we had to turn it BACK into this: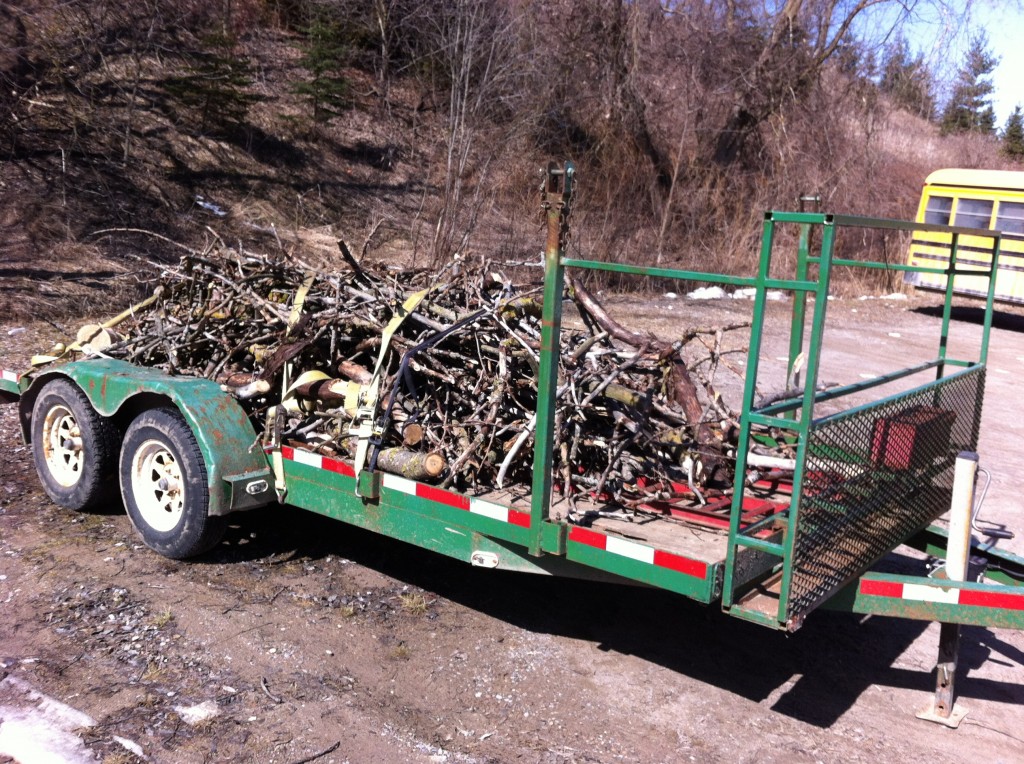 In case it hasn't come up before, one half of Rally Sputnik owns a home with no driveway. This creates something a space issue when that half has to park his car, Jeep, tow vehicle, 97 Talon, borrowed trailer, and motorcycle somewhere. So to handle the occasional – ok, constant – overflow we enlist the help of 'just in time' solutions. Like throwing a load of brush in a parking lot for a night and then having children load it back on the trailer the next day. Don't try this at home, kids – we're professionals. Weird ones, but still professionals.
Remarkably, the trip to get the car was unremarkable. The loading was uneventful, the drive back, unloading, pushing, hauling, getting gas and coffee and etc was all….uneventful. It was almost like it wasn't a Rally Sputnik production at all. However, we would like to take a second to say what a goddam improvement a 2013 Ford F-150 King Cab with a towing package is on a $500 Astro van. This contributed considerably to us 1) not breaking down 2) not getting pulled over by the dozens of police we saw on the 401 3) returning home alive.
We have spent a couple of hours pulling interior parts out of it (on Great Saturday or whatever you call the day after Good Friday) and, because it's the second time in less than 2 months that we've removed the interior of a Talon, we're getting pretty good at it. Pictures soon to prove it. Also, we're going back up on Hamover Monday (or whatever you call the day after Easter Sunday) to finish the interior, pull the front clip and start on pulling the motor. We're now in a rush, kids, because we need to get it down to Ryan at Rally Race Developments (https://www.facebook.com/RallyRaceDevelopments – shameless plug) so we can start on the welding and cage work. The goal is to have it ready for Bear and race it at Galway, so time is short. (Time for a Repo Man quote: "Since time is short and you may lie, I'll have to torture you. But I want you to know it's nothing personal".
More updates will follow more closely as we make progress, so mentally gird your loins for that event!