Aw yeah! Yes, actual, bonne fide progress has been made. The car looks like most of a car. All the important parts are in the same area code. Yep, we are happy about this.
When we last discussed the state of the Talon the torque boxes and sills were still being rebuilt. That took longer than anticipated but we had to admit, they look pretty damn good. Following all of that there was the painting prep (drag doors and fenders and bumpers around, remove bolts, tape some things, clean and vinyl wash other things, etc) before the marathon painting session that got the shell done. When the shell was loaded onto the trailer for transport to our shop in Alliston – and Drew towed it with his F150 instead of us using the Sketchy Jeep Transport Company – the doors, front fenders and front bumper(s – thanks Don for the bonus bumper) were hung and should be painted by now also. Not that we need them, or even have room for them.
We had some pictures up on Facebook of the car taken in low light with a phone so we wanted to give everyone a better view at the work, including the cage. Which is sweet. So below is our gallery of car shell pictures. (We were going to call this "cage porn" but we were pretty sure we don't want that kind of traffic. Just checked and, yep, that is still the case).
Following the pictures are some more words.
Then we added paint.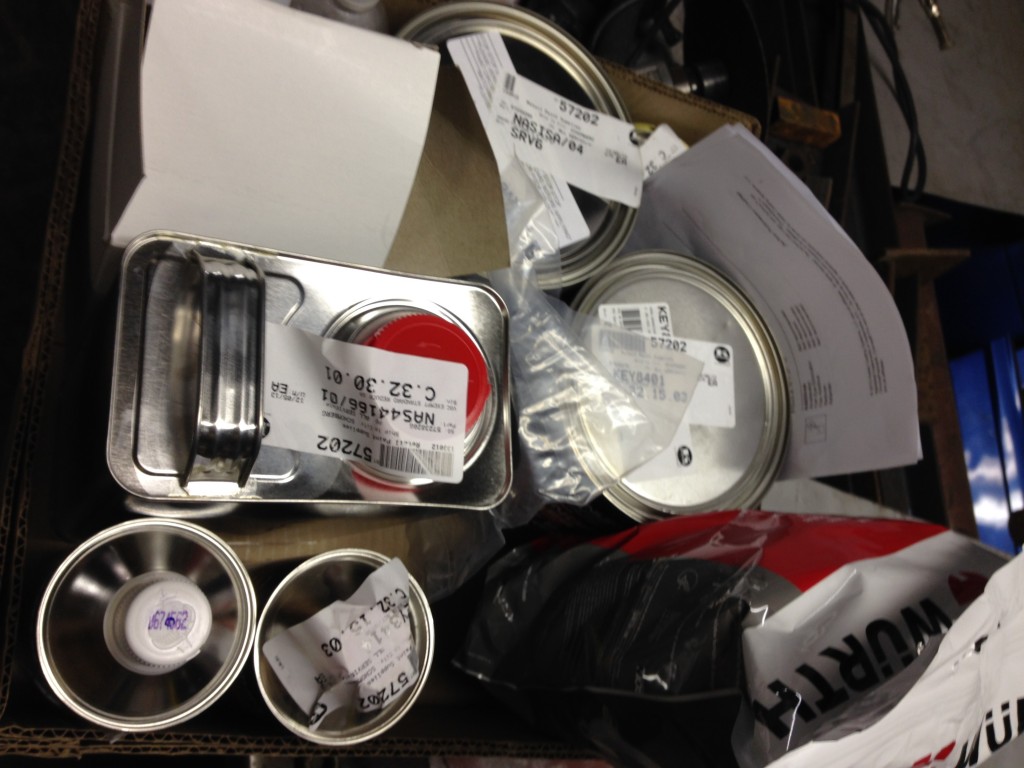 Now it looks like this:
So yeah, we're pretty happy. If you want to see the whole video it is up at:
So next steps are for us to figure out what we need to do and how to do it. Some of this stuff is ours, for example.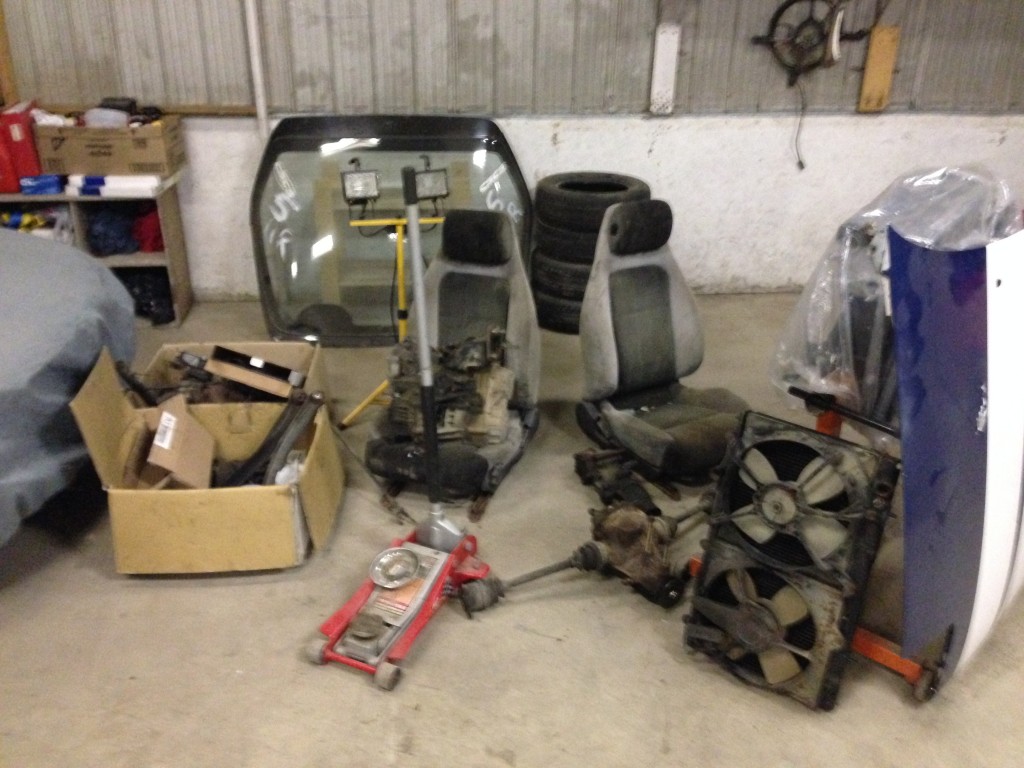 So clearly, 'pretty much everything' is the answer to the first one, but we do have the key pieces – motor, suspension and body – done, plus we have seats and belts and other stuff, so it will be more like we sit around in the barely above zero shop (minus) with barely above zero beer (plus!) and sort through parts until we figure out what we have vs. what we need, then we break the work into pieces, and then we start to buy what we need to finish those pieces. We also know we need to clean pretty well everything, we know we need to bolt most of the parts that were on the engine before back on; we know we need to build a braking system and a fuel delivery system and look at the tank (drop it to look for rust on top, we can hear Don saying) and re-wire the electrical (yes, all of it) and then get an exhaust built and attach the seats and mod the dash so the heater fits around the cage and…well, there's going to be a list. A list we will share, when we have it. The plan is to use the next ~2 weeks to make a start, and we`ll also share some of the stuff that our sponsors – yes, sponsors! – have given us. And other things we have picked up along the way.
Happy holidays for the rest of you – we'll be working on the car.
Have fun!