Cage is coming. Motor is coming. Lots more work for us is coming.
So yes, the cage progresses – there will be a brief intermission for the Black Bear Rally, which some of us are organizing, some are working, and some are competing in, and then we're back at it.
Lots of progress already though. A larger navigator seat was required – not saying anything, not saying anything – so when that showed up we needed to fit it in, and even with narrowing the transmission tunnel it was a tight squeeze. Luckily the rules were consulted and a new plan was devised and approved, so it appears we will both be able to fit into the vehicle. That's important.
The rest of the cage is coming along nicely; once the floor is fixed up where the tunnel was widened and the seats are in there's the belt mounts, some gusseting, putting in the (not required but desired) extensions from the A pillar arms to the shock towers need to go in, and then the cage will be…ready for inspection? Could it be?
Of course, then we have to clean the interior and engine bay and paint all that. And to do that was have to be able to move it outside, which means we have to have a suspension on it so it can roll. We could drag it, or weld casters to it, but given we eventually need to put the suspension back together anyhow we figured we might as well do that. That doesn't sound so bad because we already have the coil-over gravel suspension and brake rotors, right? Well, here's the thing about that.
We also have to replace every bushing we can find, for example. And there are a lot. And replace the motor mounts. And rebuild the power steering system. And replace all the control arms. And…well, here's the list to start.
| | |
| --- | --- |
| Front | |
| | |
| Front Sub Frame Bushing | 1 |
| Avid "Tuner Series" Motor Mounts | 1 |
| OEM Power Steering Rebuild Kit | 1 |
| OEM Front Axle Support Bearing Bolt Kit | 1 |
| ARP Extended-Length Wheel Studs (20) | 1 |
| | |
| Left /Right | |
| Control Arm | 2 |
| Control Arm Bushings | 1 |
| Inner Tie Rod End | 2 |
| Moog Outer Tie Rod Ends | 2 |
| Inner Tie Rod Boot Kit | 2 |
| Front Wheel Bearing | 2 |
| Inner and Outer Bearing Seal | 2 |
| | |
| Rear | |
| | |
| RTM Adjustable Rear Upper Control Arms | 1 |
| Heim Join/Rod End Boot | 2 |
| Inner Bearing | 2 |
| Outer Bearing | 2 |
| Complete Seal Kit | 2 |
| ES Rear Control Arm Bushing kit | 1 |
| Ball Joints | 2 |
| RTM Rear Subframe Bushing Kit | 1 |
| Rear Sway Bar Bushings | 1 |
| Moog Rear Sway Bar End Links | 2 |
Yeah… So getting that together should take an hour or two, keeping in mind that all these parts are 22 years old and have probably never been apart before. The front end is fully apart but the rear, well, there's a first time for everything. And that time is coming.
The motor is on track for end of July it sounds like, which should be fine since we have a little bit of work to do in the engine bay before it goes it. Like building a brake system, building and fuel lines, and put all the electrical into the dash/rest of car. Then we could put the motor in, put everything else back onto the motor. Then we can build an exhaust so we can tune it.
After all that we just have to attach hard plastic armor to the important bits on the under-body, and finish the exterior bodywork, do everything else we forgot to do the first time, and hopefully, paint the thing. Although that really is the last thing we're worried about at this point.
So now – pictures!
Cage with test-fit seat.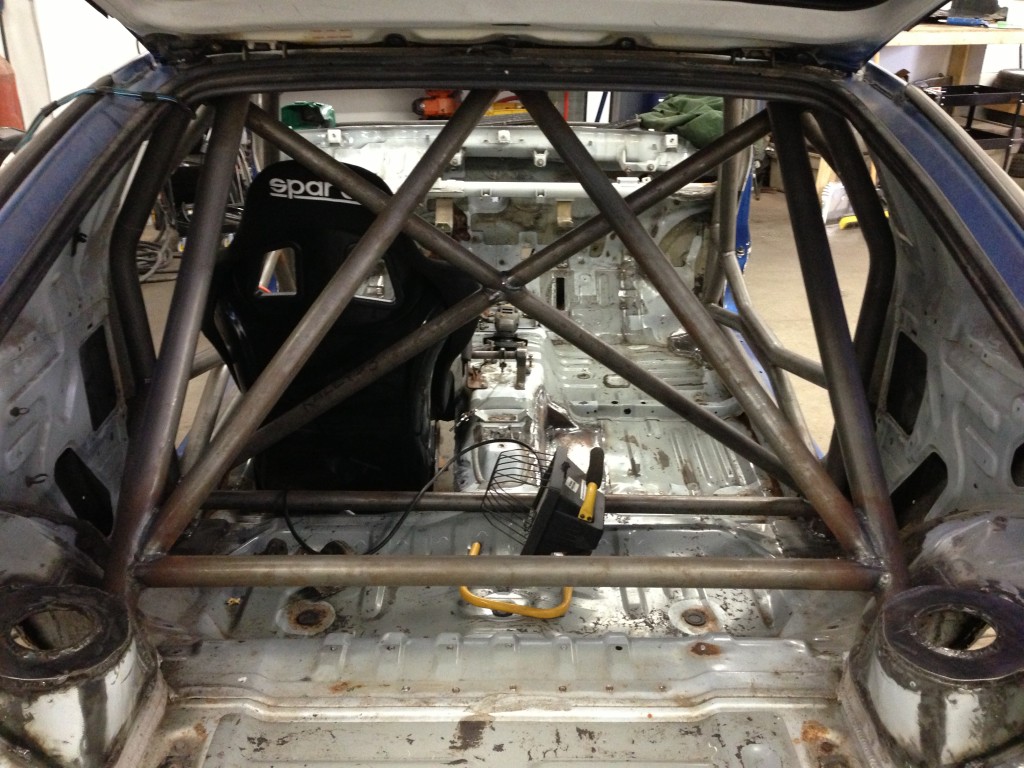 More cage. Looks complicated from this angle.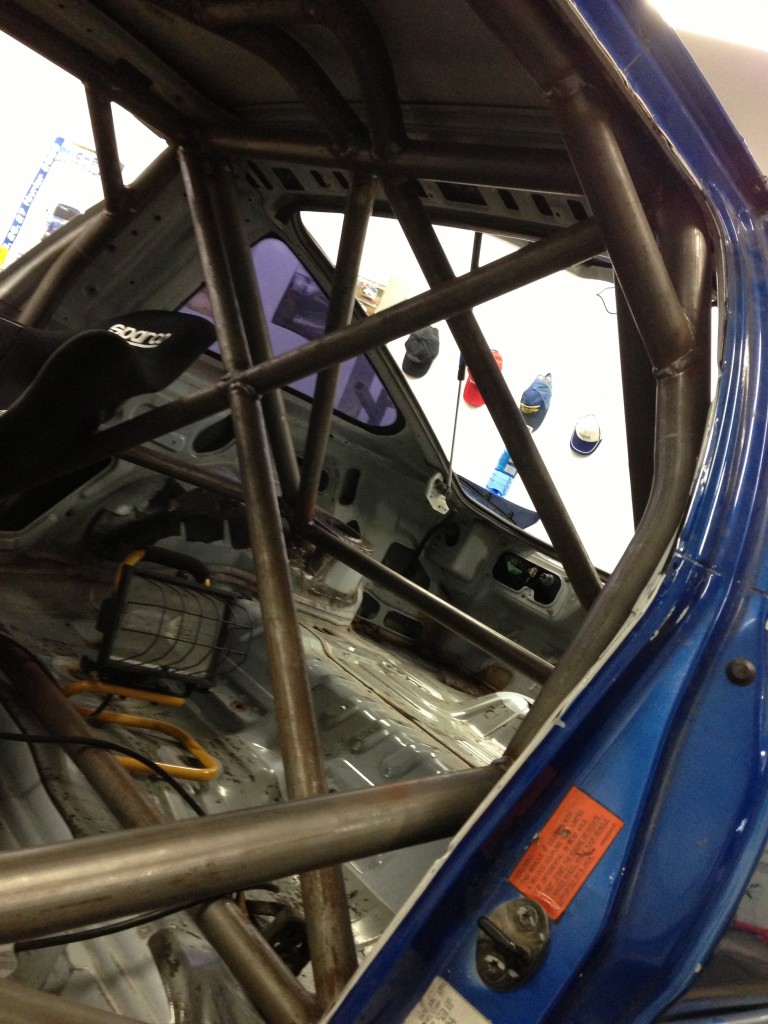 Seam welding! Yes, after all that cleaning this is what it looks like.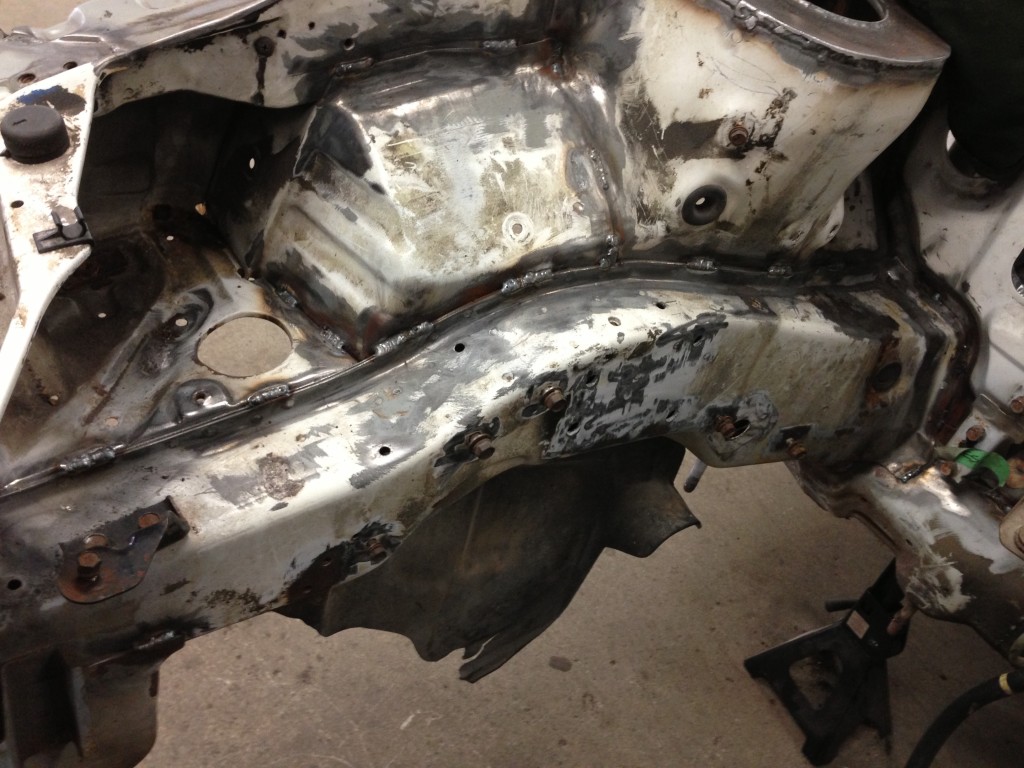 Here's the hole that transmission tunnel narrowing creates. Pretty sure we're filling that in.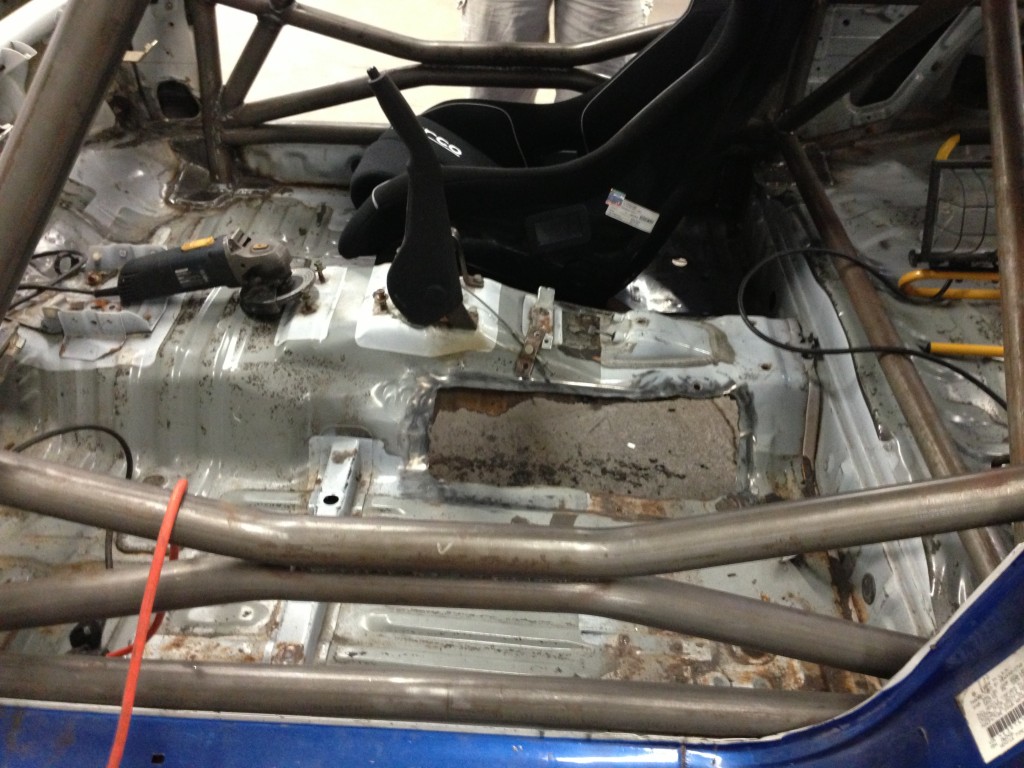 Navigator is just happy to have a seat that fits.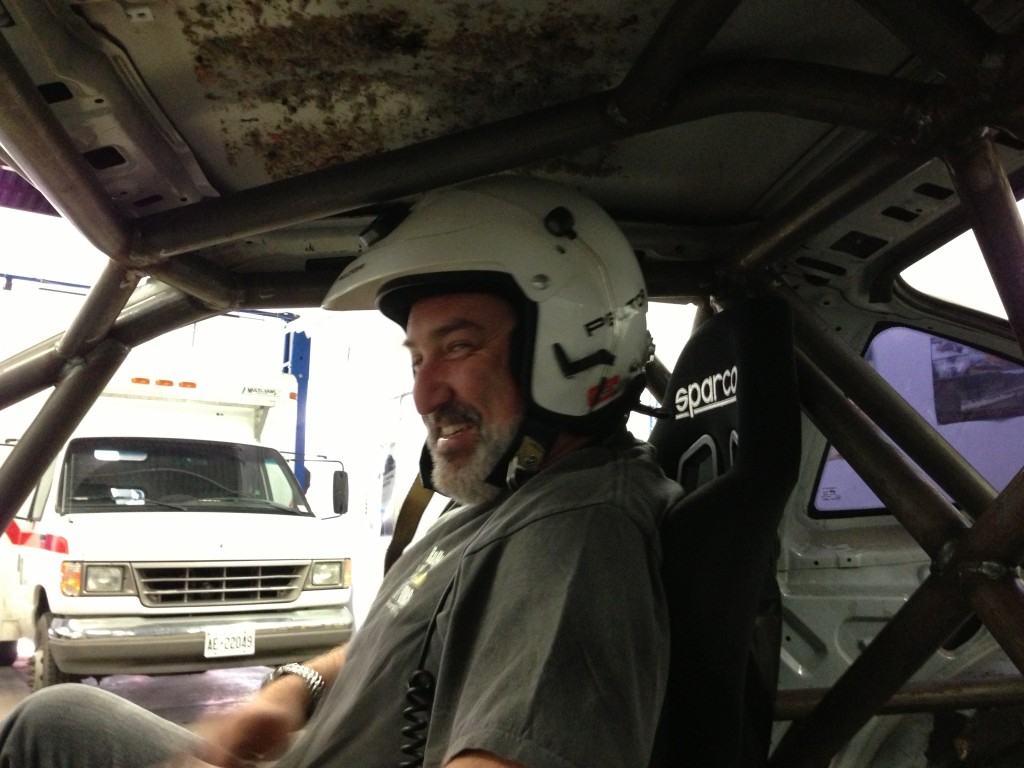 This is some of the ugliness that awaits in the rear end work. We are expecting to not enjoy this part. There are two bearings pressed in there, the axle shafts face mount to the back of the hub instead of going into it…some craziness for sure.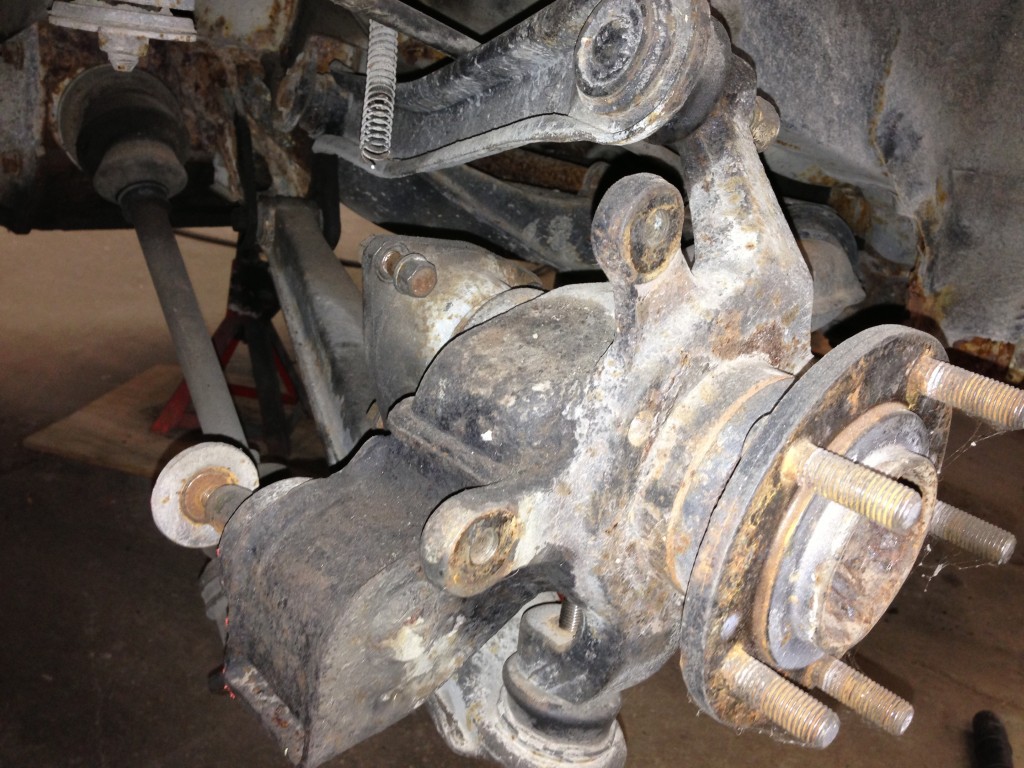 Cage, seats…starting to look pretty good!